ProactiveIT
Nwaj Tech is a client-focused managed services provider (MSP) in Central Connecticut
We believe businesses of all sizes should have the same level of protection and technology support.  We love to see our small business partners succeed.
Technology | Compliance | Security
Imagine operating a business where you never have to worry about your IT infrastructure.  Paint a picture of never having to wait for a response from your IT Support team because your systems are unavailable. 
You can focus on your business rather than your computers, servers, and network.
Wouldn't that be great?
Well, stop imagining.
The team at Nwaj Tech believes in a proactive and holistic technology support model.  We are a Managed Service Provider
At Nwaj Tech we:
Proactively monitor and maintain your IT infrastructure

Address problems before they interrupt your business

Provide cutting-edge technology solutions so your business can keep pace with the competition

Stay out of your way!
This Ain't Your Father's IT Support!
Let us review your existing IT (or lack of) infrastructure and we will let you know what can be improved upon, no charge and no commitment!
Call Us 203.680.8151 or email support@nwaj.tech
What Separates Us?
There are lots of smart managed service providers out there so what makes us so special?  
That's easy!  We are a client-focused, security-minded, proactive managed services provider.
Nwaj Tech:
Is Client Focused

Will Not Tech Talk You to Death

Provides Superior Response Times

Monitors Your IT Infrastructure 24/7

Believes in Transparency & Education

Is Proactive, Not Reactive
Is Your Business Cyber Secure? Let's Review It Together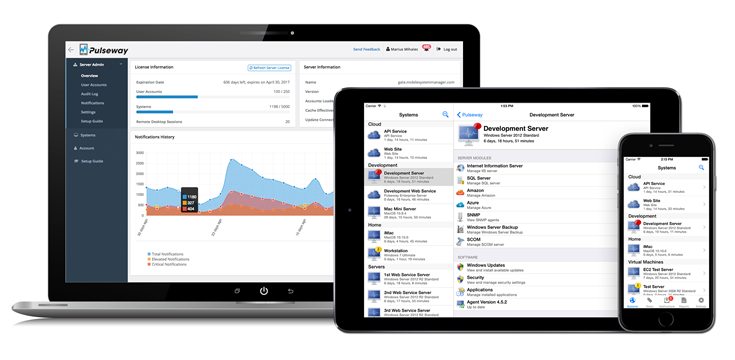 The Human Element
The top 4 types of initial attack vectors are as follows:
Business Email Compromise (BEC)
Phishing
Malicious insiders
Social engineering
Qualified Managed Services Providers are great at protecting your data and your systems but many of them fall short at protecting your business from the Human Element. 85% of all breaches include a human component somewhere in the process of being breached. It could be simple social engineering or a very complex scam. It could even be someone working for you.
More often than not a breach starts with a phishing attack. Phishing can occur in numerous ways and through numerous methods of communication. That's why we put together this free ebook "11 Steps to Mitigate the Risk of Phishing". It's free and available by clicking here.
Get my free eBook
Zero Trust
You may have heard some news about it. The federal government will soon require all agencies to implement Zero Trust in their environments. But what is it? And why should you include it in your business?
Zero Trust is what it sounds like. You do not trust any software, scripts, applications, etc. without reviewing its legitimacy. Everything goes through an approval process. It prevents from malicious scripts and software from running on your computers and network, even if accidentally allowed by the user.
At Nwaj Tech, we have implemented Zero Trust on all of our Proactive IT clients systems. Nothing can run or be installed without an approval process. This prevents 'accidental' malicious activities like downloading a PDF document embedded with malicious software that runs without your permission.
That's just part of our security stack. Give us a call at 203.680.8151 or email support@nwaj.tech to discuss.
What Nwaj Tech Does for Businesses
24/7 Monitoring
Proactive Maintenance
On-Demand Remote Support
Our team has spent dozens of years on the front line of IT support.  During that time we learned a few things.  Primarily how to become more efficient and secure.
In the Information Technology world, there are tons of certifications, and our team has some of them.  That being said nothing takes the place of experience.
Nwaj Tech has hands-on experience with managed services, pentesting,  cyber-security and IaaS (AWS, Azure).
As a Managed Services Provider Nwaj Tech prefers proactively resolving potential issues because it means less work for us.
It's easier to identify and correct a problem than it is to fix it after the problem brings productivity to a halt.
And let's be honest, your business would not be too happy if there was downtime.
In a nutshell, we ensure your IT systems are secure and proactively maintained to avoid breaches and loss of downtime.
Average Response TIme in Minutes
Ransomware Incidents for our Clients Since 2018
Average Cost of a Data Breach per Record
Average Cost of Ransomware Attack
Delivered with Professionalism & Expertise
High Availability: Combining cloud infrastructure and 24/7 alerting/monitoring/maintenance means your network and devices are available when you want them to be.
24/7 Proactive Monitoring: We maintain and monitor your systems 'round the clock to ensure your infrastructure is ready to go at all times.  
Pentesting: Want to know where you're business is most vulnerable?  We can help you determine IT and business vulnerabilities and how to resolve them.
Instant Support: Need help with something right now?  We've got you covered with our world class remote support.  Connect as fast as your internet connection allows us to and we'll have you on your way quickly.
Ransomware & Phishing Mitigation: Ransomware attacks are increasing exponentially.  Even Managed Services Providers are being threatened and attacked. 
Municipalities, healthcare, law firms, and so many other businesses are big targets.  What if you were prepared?  
Focus on YOUR Business
and let Nwaj Tech focus on what we do best!
Nwaj Tech delivers top-notch technical support with world class customer service.  We don't tech talk our clients to death or bore you with jargon.  We just ensure your IT infrastructure's availability, efficiency, and security.  
Nwaj Tech is a managed services provider.  That means we provide proactive IT solutions. 
In doing so your technology is always up to date, secure and ready for use. 
Nwaj Tech also provides security training and information to your business so that you're always prepared for the bad guys. 
The team at Nwaj Tech is HIPAA compliant and well-versed in legal compliance.  
Get Started Now
Tech Tips, Quick Hits, and Webinars
---